President of the Sierra Leone Athletics Association (SLAA) Abdul Karim Sesay has heaps praise government for their financial supports ahead of Niger Athletics Championship
The championship is to be held in Niamey on the 25th, 26th& 2th July 2019. Speaking to Exclusive Sports, Mr. Abdul Karim Sesay said the government, executive and the entire coaching staff are extremely excited for the cooperation of the minister and his deputy ahead of the championship.
He said: "I love our depth, which is another indication of the depth of talents this national team is blessed with. We've got a great mix of talents in both field and track," said Karim. He added that the selected athletes are mentally and physically prepared for the challenges ahead.
Fatmata `Awolo` said: "I'm anxious to get on the track, and along with my great coach and team mates to start the hard work ahead of the championship," said Fatmata `Awolo`,.
"Looking at this team, our overall balance is what strikes me. We are mentally prepared to challenges the likes of Nigeria, Ghana and host Niger," she lamented. We have great athletes and we are optimistic of bringing gold and silver medals for our beloved country".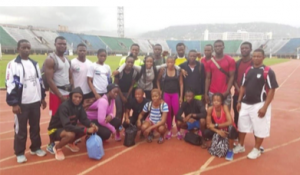 Below are the names officials and athletes selected
NO
NAME
DESIGNATION
1
MR. ABDUL KARIM SESA
PRESIDENT
2
MR. IDRIS HAMZA KAMARA
ADMIN. SECRETARY
3
MRS. AUGUSTA JAMES-TEIMA
FEMALE COACH
4
MR. ALIMAMY ALIM KAMARA
MALE COACH
SELECTED ATHLETES BASED ON QUALIFICATION
NO
SENIORS (FEMALE)
UNDER 20
1
HASSANATU LABOUR
FATMATA J. BANGURA
2
FATMATA AWOLO
NAMISSA JOHNNY
3
MARY THOMAS TARAWALLY
KADIATU KANU
4
WOSANATU LABOUR
JANE KARGBO
5
ISATU TURAY
MARY KAMARA
NO
SENIORS (MALE)
UNDER 20
1
ALPHA B. KAMARA
IBRAHIM M. BANGURA
2
AYA GRAY
JULIUS B. KALOKOH
3
OSMAN CHALLEY
AMIDU DUMBUYA
4
ALHAJI M. BANGURA
IBRAHIM KOROMA
5
MOHAMED CONTEH
KALIE SESAY