East End Lions rounded off their campaign with a draw to become the first side to go through a league season unbeaten after their goalless draw with their bitter rivals Mighty Blackpool at the Siaka Stevens stadium on Sunday. 
Mighty Blackpool threatened to stop East End Lion entering the history books when Mark Kamara in swing header in the 80th minutes was saved by the `Killers` stopper Mohamed Fabiaski Kamara. Top scorer Musa N Kamara goal was ruled offside which could have secured a double over their rivals.
Siaka Stevens stadium was in party mood when the fourth official signaled 3 minutes additional time. Musa then forced a fine save out of Mighty Blackpool goalkeeper Shayma Bangura when he tipped over a 25-yard shot. Mighty Blackpool worked tirelessly, retaining possession and getting players behind the ball to deny East End Lions space.
East end Lions` achievement may not make them `great` in others opinion but their remarkable performance in this season`s league speaks volume. Won 13 drawn 11 lost 0. "We are unbeatable, `chorused the East End Lions supporters as the Premier League trophy was carried to the stadium track to the official presentation by the Vice President of the republic of Sierra Leone.
Head coach of East End Lions John Keister said he is pleased with his side performance, adding that team spirit is the key to his side success. Keister said: "I have always for the best of my team and I think the young boys deserve the celebration because they worked for it.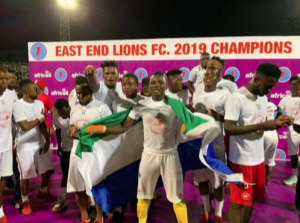 He continued: "I would just remind you that we won the Sierra Leone Premier league with losing a game. We are in a position that nobody believed a month ago, but we just focus on ourselves and at the end we achieved a remarkable history. Keister however thanked supporters for being behind the boys till the end of the season. He said: "I would like to thank you all for your support because without you this club would not have achieved this success. I hope to see more from you guys season.
Thank you thank you thank you.