Champions East End Lions will go head to head with their bitter rivals Mighty Blackpool in the  second leg and final game of this year`s premier league on Sunday (kick-off 7pm), having won the first leg fixture.
East End Lions caused Mighty Blackpool plenty of trouble in the first leg with Alhassan Koroma who has completed a one year loan move to Spanish side Real Balompedica License got the only in that match. East End Lions are yet to taste defeat in 23 matches played and if they avoid defeat in Sunday`s clash with Mighty Blackpool, John Keister will become the only coach in the country to have completed a league season without defeat. Meanwhile, Mighty Blackpool have lifted the league`s trophy 11 times whiles East End Lions with 12 over their great rivals.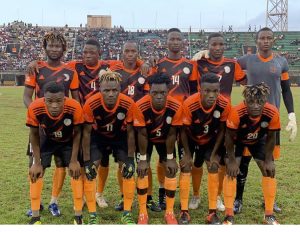 Speaking to the press, the Public Relations Officer of Mighty Blackpool Osman Kamara said:
"It's an important match though they`ve won the league; Kamara said.  He continued: "They will have a lot of confidence as they don't have the problems they had before when the league started and they are yet to taste defeat in the league;"
he stressed
John Keister has never lifted the Sierra Leone Premier prestigious trophy and knows a win for his side will serve as big boost of winning the title.Captain of East End Lions Gibrilla Woobay said:
"He (John Keister) knows how good the young boys are and, if the team are not up to his standards or the standards of East End Lions, he will certainly let you know; Woobay Lament.
"This is a decisive match for us to keep our unbeaten run in the league and as captain I want to be part of that history, adding the fans and the technical team also want to part of that celebration and we`re mentally and physically prepared for Sunday`s showdown".
| | | | |
| --- | --- | --- | --- |
| Club  |       City  |                               Titles  | Last Title  |
| Mighty Blackpool                                            | Freetown | 11 | 2000–01  |
| East End Lions                               | Freetown | 11 | 2009–10  |
| Kallon (includes Sierra Fisheries) | Freetown | 4 | 2005–06  |
| Real Republicans | Freetown | 3 | 1984  |
| Ports Authority | Freetown | 3 | 2010–11  |
| Diamond Stars | Koidu | 2 | 2012–13  |
| Freetown City (includes Freetown United) | Freetown | 1 | 1989  |
| Old Edwardians | Freetown | 1 | 1990  |